By installing extended length rails on your Onewheel you open up some great options for Onewheel Modifications. Eliminate tire rub on larger tire sizes as well as allowing yourself wider stance options. There are definitely some great benefits to modifying your Onewheel with some Extended Rails.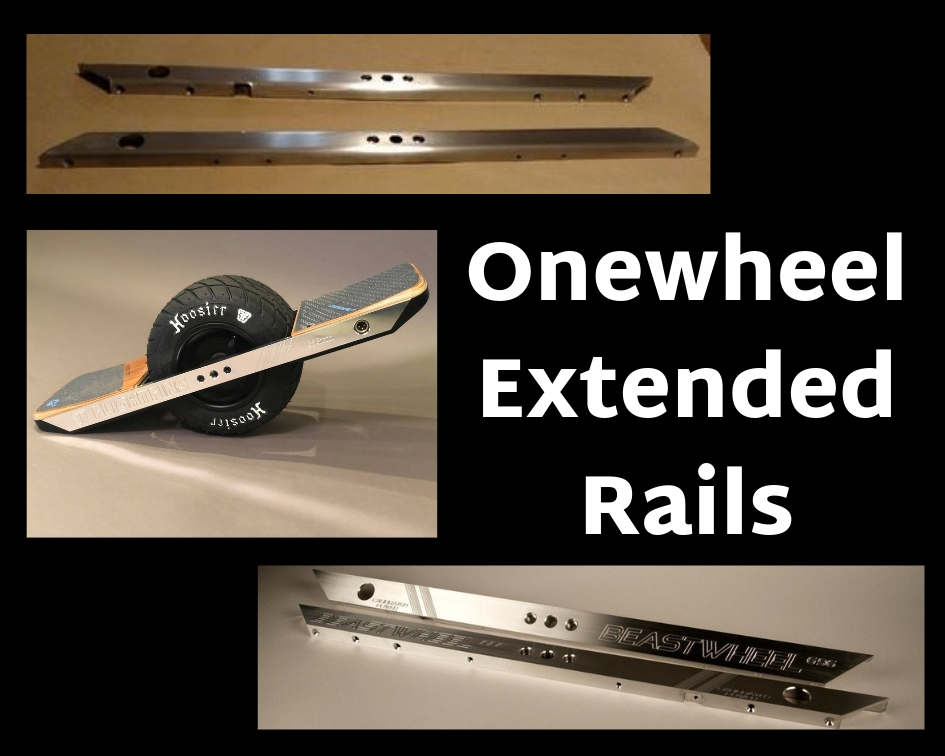 Onewheel Extended Rails
Bigger Onewheel Tires
An even larger selection of Onewheel Tire Upgrades becomes available. Bigger Onewheel Tires like the Treaded Burris 11.5X7.00-6 TX-22. Or, the Hoosier Treaded 11.00 x 6.5-6. And, the Dunlop Wet Racing 11.5X7.10-6. Will all become viable tire selections with extended rails on your Onewheel. Normally these larger tire sizes need to be used at lower PSI for a break-in period, to prevent rubbing. But, with extended length Rails on your Onewheel, this is not an issue.
Wider Stance
There are options for a wider stance using a Onewheel Concave Footpad like the Craft&Ride Onetail+. The wide stance offered by using extended rails on your Onewheel allows for even foot spacing on either side of the wheel.
Clearance For More Than Just Tires
Using extended Onewheel Rails allows for more spacing between the wheels and battery casing. Not only does this prevent wheel rub on when using larger tires. It also helps with Fender noise, by allowing for gravel and debris to easily exit the fender well.
Onewheel Aftermarket Rails  
Onewheel Ruckus Rails – Aftermarket Extended Rails For Onewheel
First up, Ruckus Rails For Onewheel are available at the Summer Snow Outfitters store. They have a few different models to choose from, with carbon steel, stainless steel, and aluminum construction. Ruckus Rails, aftermarket extended rails for Onewheel.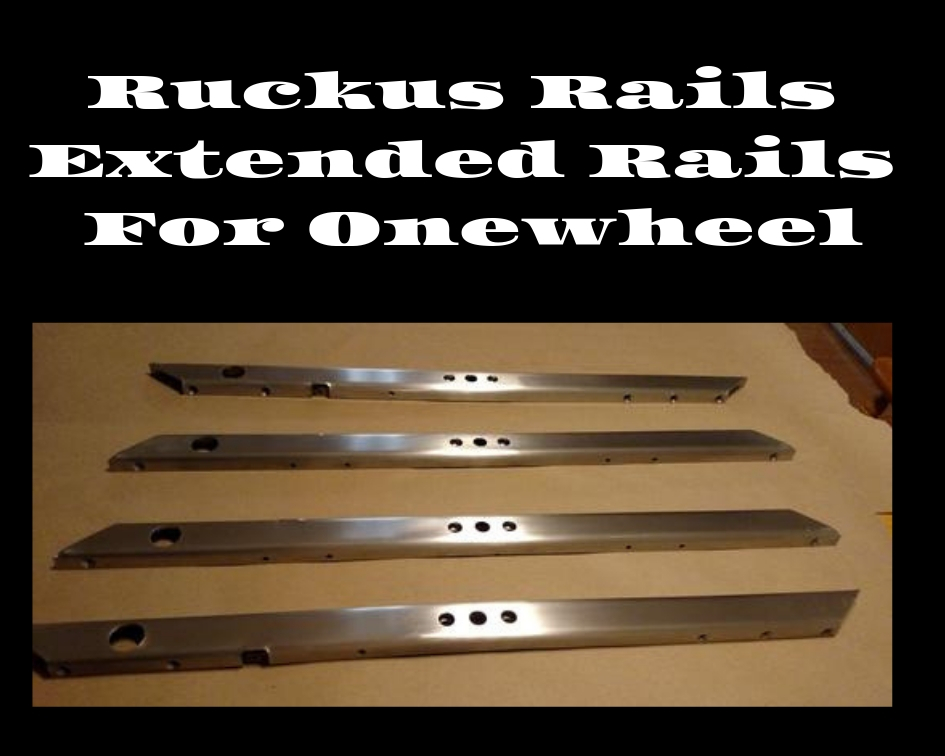 Flight Fins FlightFrame – Onewheel Rails
The next option, if you are lucky enough to get your hands on a set, are the new Flight Fins FlightFrame Aluminum Onewheel Rails. Flight Fins is making a limited run of these beautiful Onewheel Rails available. Good Luck!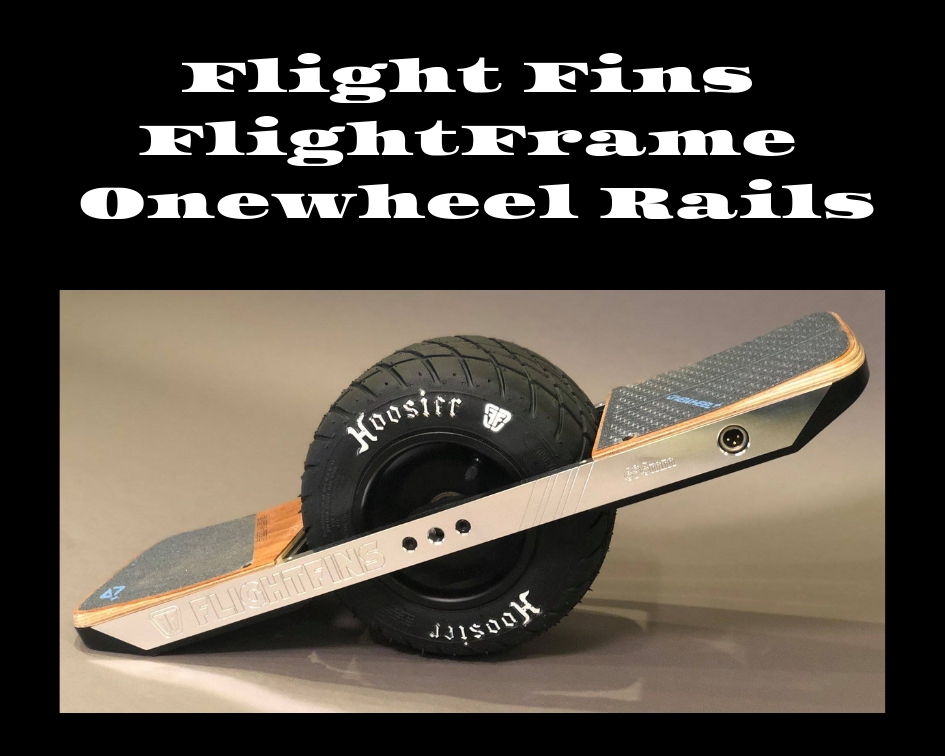 Onewheel Beast Rails – Beast Wheel Rails
Beast Wheel Rails from calibratedpower.com were the original Onewheel Extended Rails. Onewheel Beast Rails have been discontinued as they are no longer listed on their website.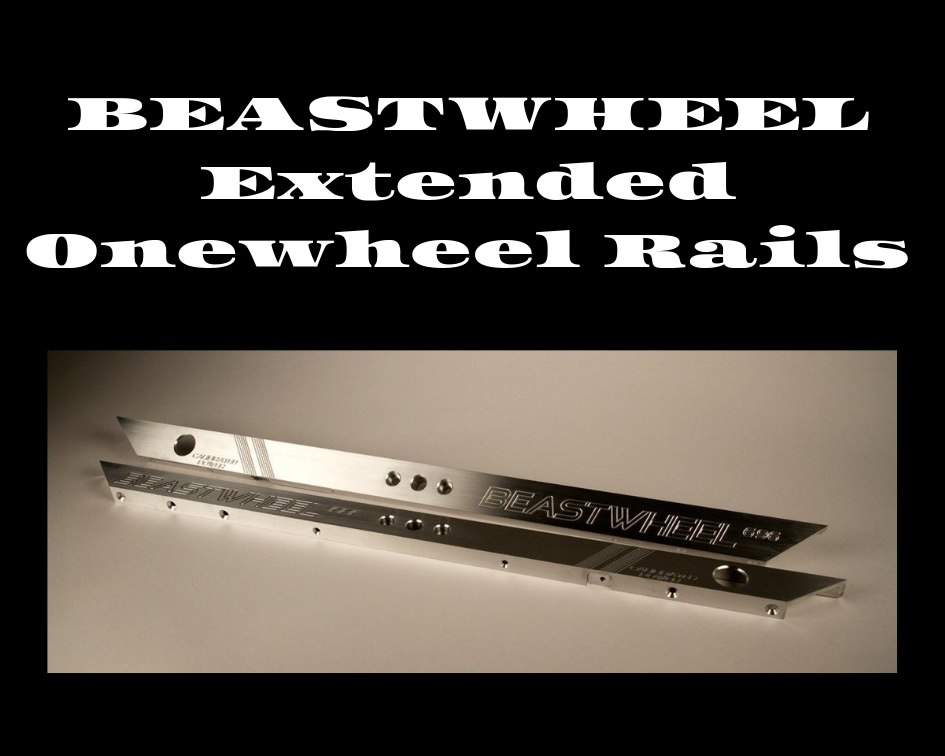 Buckwilders Extended Rails – Advanced Onewheel Accessory
Lastly, Coming Soon "Buckwilders' extended rails will be made of anodized aluminum, available in black or silver. These rails will be noted under the tires that require them."  Keep an eye on the Buckwilders site for more updates.
Summary
The addition of extended rails to your Onewheel is surely a big modification to undertake. You will have to strip down your onewheel completely and you will void your warranty. That being said, the benefits could be great for some riders. Being able to run larger tires and get that even wider stance for a flowier ride, magic!
Like to shop on Amazon? Check out some of the best Onewheel products on Amazon.
Don't forget to wear your safety gear. Now go out and ride!